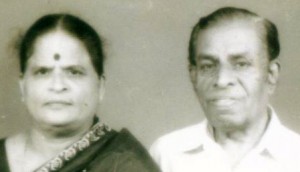 S. Vaithiswaran (aged 90 years) passed away on September 10, and R. Saraswathi (aged 78 years) passed away on January 10, this year. Both were Mylapore residents for the last 54 years. The couple got married in 1960. 
Vaithiswaran was from Kumbakonam. After moving to Chennai, he worked with Hindi Prachar Sabha as a Hindi pandit. Saraswathi was from Pudukotai and was a teacher at Vanniyar Sangam School. She passed the Tamil Vidwan exam in 1975. She was actively involved in all school functions and was an excellent cook. The couple lived for 54 years together. They were friendly, gentle and helpful.
They resided at 26, Kutchery Lane, Mylapore. Ph: 9841405920.
– Tribute by niece K. Jayanthi.