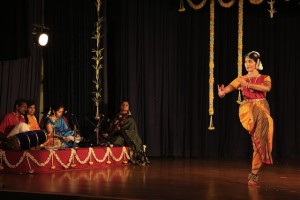 Dancer and guru Revathi Ramachandran held her annual tribute to her dance guru Mangudi Dorairaja Iyer at an event held on Sunday morning at Bharatiya Vidya Bhavan, Mylapore by honoring music guru Suguna Purushothaman on this occasion.
Also present at this function were music vidwan P S Narayanaswamy and dance scholar Nandini Ramani.
Later, Revathi's daughter and sishya Manasvini performed to what was called Suguna margam, select compositions of guru Suguna Purushothaman. ( seen in photo)
Revathi runs her academy, Kala Sadhanalaya in R A Puram.