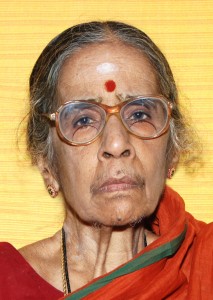 Anasuya Rao (aged 83 years) who passed away on August 21 was the granddaughter of late Dr. M. C. Nanjunda Rao and the wife of eminent surgeon and professor Dr. R. Nanjunda Rao. She was born in Mylapore in 1931 and lived till her marriage at 1, Sannathi Street, Mylapore (now Rasi Silks).
After her marriage she lived in the red building (Sasi Vilas) at R. K. Math Road (now Khazana Jewellers). She was a regular attendee at the Panguni festival at Sri Kapaleshwarar temple. She passed away due to prolonged illness. She is survived by her husband, son and daughter-in-law, son-in-law, and granddaughters.
The family can be contacted at 9444427678.
– Tribute by son N. Ashok.