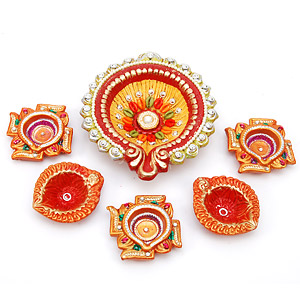 – Available now at Rasa-Experience of Art are packs of painted and decorative diyas or lamps for Rs. 30 a pair. They also have newspaper bags from Rs. 7 onwards, wooden letter holders at Rs. 150 and tamboolam bags at Rs. 60. At First Floor, 68, 4th Trust Cross Street, Mandaveli (opposite Murray & Co.). Ph: 9840712002.
– Sri Palsani Jewels is organising an exhibition of earrings and necklaces in typical South Indian designs like the seven-stone top and other ear studs. There is a chit scheme available. Open on Sundays. At Dr. R. K. Salai, near Krishna Sweets, Mylapore. Ph: 28111737.
– On now is Mrignayanee's sale of Maheswari and Chanderi sarees, tussar, crepes, chiffons, hand block prints, batik and hand looms, from 10.30 a.m. to 7 p.m. At 180, Luz Church Road (adjacent to Navshakthi Vinayagar temple), Mylapore. Ph: 24985497.
– On now till Oct 30, a sale of handicrafts, hand looms, jewellery and furniture from Uttar Pradesh is being held at Alwarpet. Jodhpur gift items, marble, wood, sarees from Orissa, paintings from Rajasthan, pashmina shawls from Kashmir and lots more are available. At Sankara Hall, 281, T. T. K. Road, Alwarpet. Ph: 7299156625.
– Sanginee boutique has a new collection for Diwali and is holding a sale of sarees, kurtis, salwar suits, anarkalis, long kurtis, hand-blockprinted trousers, stoles and dupattas, made by rural craftspersons. From 9.30 a.m. to 9.30 p.m. till Oct 22 at 46, Ashwin Apartments, C. P. Ramaswamy Road, Alwarpet. Ph: 45102222.