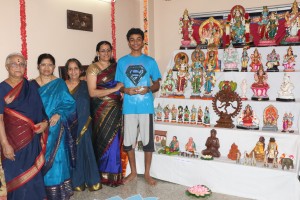 For the past 18 years Aashiana Apartments at Venus Colony, Alwarpet has been celebrating the Navarathri festival in all its glory for the entire nine-day period. This year from September 25 till October 4, special poojas are held everyday in the mornings, conducted by the residents.
A grand golu has been created with participation from all the ladies and children and a beautiful kolam made in front of it. The golu dolls are contributed for the community golu in the recreation block by the residents themselves. Lalitha Sahasranam and Vishnu Sahasranam chanting sessions are attended in full strength by residents. Saraswathi pooja was performed by 25 children on Ashtami day. 
The divine ambience is carried over to the evenings when the ladies takes turns to represent their apartment blocks and offer 'tambulam' and 'prasad' to visitors. There are a total of 11 blocks in the apartment complex. Each day a colour has been chosen as per the festival and residents dressed in vibrant colours of the day visit one another for 'tambulam' and the community hall during the special programmes. Devotional songs are sung by ladies and children during this time, while sitting in front of the golu.
At the community hall, entertainment programs are held in the late evenings, which every 'Aashianite' as the residents call themselves, looks forward to, year after year. They also invite their guests to these events, which are a special treat for all who attend.
The highlights of this year's program includes women and children performing with a cooperative spirit. Some of the committee members are Vandana, Usha, Ananthalakshmi, Sreeja, and Sowmya. Former principal of M. O. P. Vaishnav College Nirmala Prasad and her team prepare and plan the events, and purchase gifts for the participants. She says, "We want to bring about an "Aha!" moment for the audience when they attend these programmes so we encourage the children to come out with novel ideas."
Some of the events so far – the young children of Balavikas performed devotional songs, Ramya and Divya Raghavan, nieces of one of the residents, rendered a veena and violin concert, students of Bharatanatyam teacher Sudha Bharath performed a group dance, and college girl Mathangi presented a vocal concert. The young lasses of the apartments presented traditional folk dances set to melodious music.
The young mothers of Aashiana showcased a 'silent' skit without any dialogues, they acted out the scenes to perfection. It was entertaining and humourous and conveyed messages on the importance of cleanliness, values and being considerate to others.
Another highlight was a drama by children (a unique concept where popular folk tales of the first family of the gods – lord Shiva, goddess Parvati, and their children lord Vinayaka and lord Muruga), using modern gadgets like cellphones, tablets and how they are up-to-date with social media – the act showed them using Whatsapp messenger and Facebook apps! The concept and script was the idea of school student Pavithra.
Harshita, who studies at Grove School on Eldams Road, performed the dance of goddess Durga in Her Kali avatar. A devotional discourse on Ambal by Goda Venkateswara Sastrigal was also held. Sisters Shwetha and Sanjana sang devotional songs.

Music legend D. K. Pattamal's granddaughter and an acclaimed singer herself, Nithyashree Mahadevan brought her daughters Thejashree and Thanujashree, who rendered a Carnatic vocal concert. They were accompanied by their grandfather Sivakumar on the mridangam and M. A. Krishnaswami on the violin. They presented 8 songs starting with 'Gajavadhana' and concluding with 'Santhi Nilava Vendum'. Elderly resident Vasantha Dorairaj exclaimed, "The little girls did such a fine job singing alpanas, neraval and kalpana swarams." The residents insisted their mother (who used to reside here until recently) sing as well and she joined her daughters on stage and they all sang the popular bhajan 'Janani janani' to an appreciative audience.
On Vijayadasami day, brothers Siddharth and Ashok presented a violin and vocal concert to an enthralled audience. There were no seats left in the packed hall and people were standing. From senior citizens to young children, all were listening to the concert in rapt attention. "Definitely child prodigy's in the making, what a sublime rendering by such young boys! I wish them a very bright future," said octogenarian Dr. Srinivasan.
President of the residents association Ramamurthy said, "This year we have collected the highest ever contributions in Aashiana's history for conducting the events, donated by residents. Also, this was the first time no adults/senior artistes performed for a change, all the music concerts, dance and drama shows were presented by the children of the apartment complex. The children also anchored some events, as well as conceived and choreographed them. We are so proud of the talented young ones and wish to encourage them to hone their skills further."
The celebrations  will be concluded with Narayaneeyam followed by a Dandiya night with Dolhi by Sudha and group on October 4.
– Filed by Sumita Pai