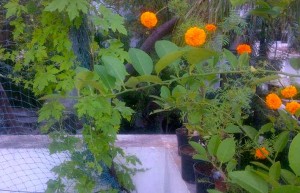 TERRACE GARDENING
On October 18, part 4 of the organic terrace gardening workshop presented by The Offshoot in collaboration with Ashvita Bistro will be held at Alwarpet. The topics will cover pest and disease management in terrace vegetables, and seed collection and storage. Entry is free but participants have to register by sending the SMS 'terrace garden' with their full name and email address to 9791088189.
From 4 to 6 p.m. at Ashvita Bistro, No. 11, Bawa Road, Alwarpet.
LEBANESE COOKING
On October 16 and 17, Frangipani Culinary Expressions is conducting Lebanese cooking classes. Drinks, starters, dips, main course and desserts with pita bread and lavash will be taught from 11 a.m. to 2 p.m. at Boat Club Road, R. A. Puram. Ph: 9962048088.
COOKERY AND CRAFT
Mumtaz Alam of Craft Basket is conducting special classes for Deepavali on chocolates, jelly, sugar craft, fruit preserves, eggless cookies, fudge, noughats and marshmallows till October 19, at San Thome. Call 9841427217.