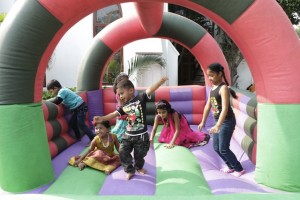 This was a carnival with a purpose – to raise monies that will go to the missions of the Catholic Church around the world. Last Sunday, the community at the San Thome cathedral put their hands together to host a carnival on the church campus.
Open from 7 a.m. to 7 p.m. and enjoying the November sunshine after a spell of rain the previous week, the carnival presented a variety of fun games and food stalls.
40 'anbiums' ( basic Christian communities) of this congregation took the responsibility of running the shows and sales. Fr. Mathias, parish priest says that some groups cooked the food at home and sold it at the carnival.
The fete raised about Rs.4 lakhs and this money will be passed on to the diocese.