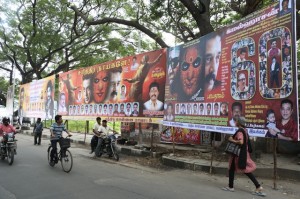 Fans of actor Kamalhassan are preparing to celebrate the 60th birthday of the well known actor which falls on November 7. Many banners and cutouts have been erected around the actor's office at the Alwarpet traffic signal junction on Eldams Road.
Kamal has encouraged his fans to look at themselves as social workers and hence the fan clubs are called narpani manrams.
This year, the actor asked the fans to help clean a lake on the fringe of the city.