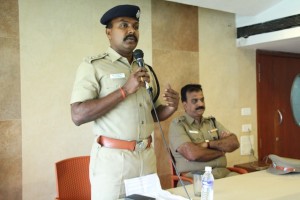 Mylapore police held a meeting with the neighbourhood shop owners and managers on Wednesday evening at a hall at a local hotel to discuss security issues. The meeting was led by the Deputy Commissioner of Police, Mylapore range and his officers. Over 100 members of small and big stores in the area attended.
Police briefed the guests on the need to secure their businesses – they asked shop owners to keep a record of all their staff including doing a cross check on their profiles and homes, installing CCTVs at key zones in their stores, appointing one security person if the shop was large and sold things like jewels or saris.
The shop keepers asked the police to organize police patrols at night in the shipping zones.