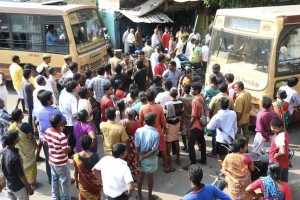 Traffic on St Mary's Road, near the MRTS station and Canal junction was disrupted on Wednesday morning after members of a political party staged a road rook after local police removed banners which were put up here celebrating the birth anniversary of slain LTTE leader V Prabhakaran.
Police came to the scene and tried to resolve the issue.
Many flex banners had been put up at Luz Circle on weekend hailing the LTTE leader and also carried pictures of local party leaders like Thol Thirumalvalavan.
These were missing this morning.