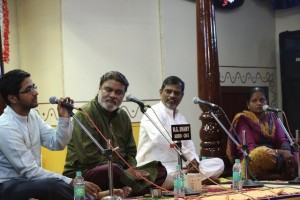 For an early Sunday morning music-related event the audience was very goo. At least 600 people attended the lec-dem on Voice Culture that was hosted at the Vidya Bharathi hall near Jammi Bldgs. in Mylapore for an event hosted by Sri ParthasarathySwami Sabha on Dec.21.
The popular voice expert Anant Vaidyanathan leaded the panel which consisted by vocalist Abhishek Raghuram and yoga master Venkataraman besides K N Sashikiran who co ordinated this show.
It was a tight and engaging event, with scores of young music students taking in the tips that were shared by the experts.