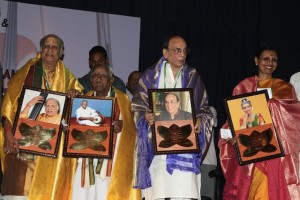 Brahma Gana Sabha's music fest for the December Season was launched on Dec.3 evening at the Smt Sivagami Petachi Auditorium with the chief justice of Madras High Court , Sanjay Kaul as the chief guest. Vocalist Trichur Ramachandran, Thanjavur Ramamurthy ( mridangist), AR Srinivasan ( stage and film actor) and dancer Priyadarshini Govind were honored with titles.
Sabha patron Nalli Kuppuswamy Chetty was present.
Concerts are held through the day and the main ones are ticketed.