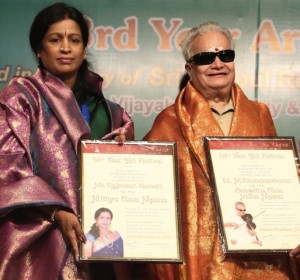 Senior violinist M Chandrasekaran and dancer Rajeswari Sainath were decorated with awards at the opening evening of the December season music and dance festival of The Mylapore Fine Arts Club, Mylapore. The event took place on Wednesday evening.
Later.a  dance drama was staged and it signaled the start of the series of concerts from morning to evening at this sabha campus.
The canteen has also opened alongside the hall and is open for breakfast, lunch and tiffin.