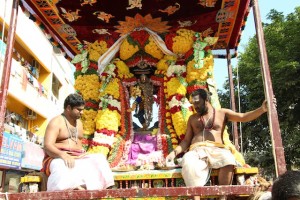 These are times when even the Gods have to negotiate traffic snarls and jams and this is what happens when the Gods go out in procession in the mada veedhis from Sri Kapali Temple, Mylapore.
The Aarudra festival peaked on Sunday evening with a grand procession but despite the traffic snarls, caused by twin streams – pilgrims from in and outside the state visiting the temple and rasikas headed to two local halls – there was time for people to stop and say a prayer.
On Monday morning the final procession was taken out but this time, the streets were relatively freer for this religious event.