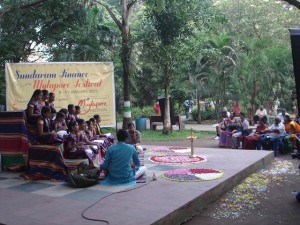 The annual Sundaram Finance Mylapore Festival got off to a quiet, musical start this morning with a concert at the Nageswara Rao Park, Luz. The group of youngsters sang all the pancha-ratna kritis of saint-composer Thyagaraja, perhaps in keeping with the ardhana that is now on in Thiruvaiyaru, Thanjavur.
The music floated in the air as morning walkers dod the rounds of this verdant park – the air hung still and the margazhi nip in the air was missing.
Concerts will be held on the next three mornings.
The Fest info is at www.mylaporefestival.com. Jan 8 to 11, 2015.