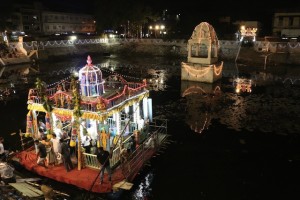 The three day teppam festival of Sri Adikesava Perumal Temple in Mylapore began on january 20 in the Chitrakulam. The tank has been fully illuminated for the event and the water lilies which have been flourishing in the tank for some months now remain though the float has run over some of them on its first movement around the tank.
Many people said that had there been no shops on the western and northern side of the tank, this teppam would look grand on all these three days.
Since there are no proper steps in the tank, people cannot step in, sit down and enjoy the rounds of the float as people do inside the tank of Sri Kapali temple.