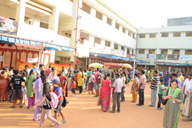 Vidya Mandir Senior Secondary School, Mylapore, held its annual school carnival Funfest on the weekend of Jan 10 an11. It was organised by the school's Parent-Teacher Association. This event usually draws all the students of the school for a day of fun and games. This year, the event was a colourful gala.
Shoba Raman formally inaugurated the carnival and then the fun took off!
The PTA organized the games, food stalls, and the prizes for the winning children win.
There was also a big raffle that saw many children and parents buy the tickets to win fun prizes along the way. There were also stalls for face painting, mehendi, hair braiding, Netz cricket and an innovative photo booth stall, where fun accessories were given to the children and adults alike to try on and then get photographed.
There was a choice of food for the guests – from chaats to crispy dosas to French fries to wraps to popcorn and ice creams.
–