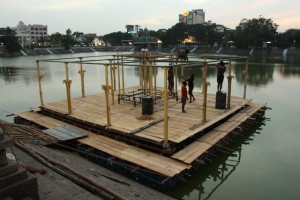 The final leg of preparations for the annual teppam festival of Sri Kapali Temple are going on now in the temple campus and inside the tank. On the weekend, the basic float was set up and now, the flat will be decorated too. Temporary dividers using casuarina poles have been erected all along the water front of the tank to secure the place so that people who step into the tank on the teppam days – Feb 3 to 5 – do not get close to the water level.
Massive illumination has also been put in place here.
People will be allowed into the tank on the three evenings on all sides though one gate on R K Mutt Road is exclusively for the entry of the procession of the gods and for VIPs.