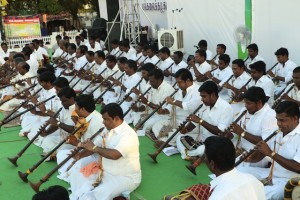 The campus of the Tamil Nadu Music and Dance University was abuzz with music, speeches and illumination as it hosted a short arts fest on the campus of the Music College in R A Puram. Today's concerts were timed with the 67th birthday celebrations of AIADMK leader J Jayalalithaa, with 'J' standing tall across the campus and at the gate which was illuminated.
The special show of the day was the concert by 67 tavil and nagaswaram artistes all of whom were seated on the open air stage on this campus.
The music floated far and wide, preceding a formal function in the evening.