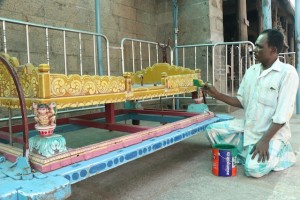 The major set of illuminations are in place. The decorations have been fitted in. Vahanams have got a fresh coat of paint. The pandas have been decorated. Much is in place on the eve of the annual Panguni Festival of Sri Kapali Temple.
On Monday night as the workers tried out the illumination we saw a pair of peacocks fitted to the top end of the east gopuram, working in animation. Even the pandals have been fitted with colored lights, looking aesthetic when you look up at the roof.
The hawkers have moved in on the street sides. One year, local police removed most of them on East Mada Street. They add to the color of the fest but also eat into the street space that is required for processions and allow free movement of people/traffic.