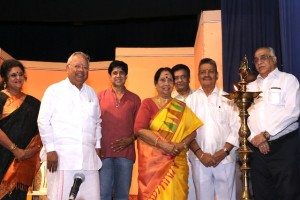 Four days of Tamil theatre will unfold at Bharatiya Vidya Bhavan, Mylapore from Tuesday evening. The fest, hosted by the Tamil Drama Producers Assn headed by Y Gee Mahendra opened on Tuesday evening with actor M N Rajam and singer A L Raghavan doing the honors among other guests on stage.
The collaborators are TN Eyal Isai Nataka Manram, Bhavans and local sabhas.
On March 27, World Theatre Day Akademi awardee ARS will talk about Theatre of yesteryears, of today and of the future.
Tuesdays show was full house though it was pedestrian slapstick theatre on the lives of IT young people.