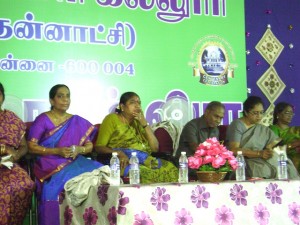 The Annual Day celebrations  of Queen Marys College took place on Thursday in the open air  space near Golden Jubilee Hall.
It was presided over by P.Valarmathi, state minister for social welfare and nutrition.
The other dignitaries present were Dr. Devadas, Director, Collegiate Education, R. Rajalakshmi, MLA, Mylapore constituency and A. Noorjahan, local area councillor. Minister Valarmathi gave away prizes to meritorious students. A few members of the alumni were also present at this event.
Reported by V. Vasantha, OSA, QMC. 9940140302