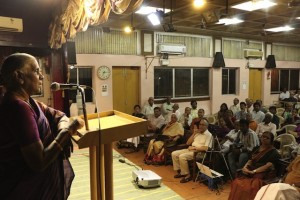 One tribute that stood out at a meeting held this evening at Raga Sudha Hall in Luz to remember vidushi Suguna Purushothaman, well known Carnatic music artiste and guru who passed away recently at her family's house in Mandaveli came from a doctor who treated her for about 5 years at Apollo Hospitals. Suguna chose to call her just HS, not even Doctor HS but in the time that the guru got treated via chemotherapy and medicines for cancer, HS learnt a lot of music and the guru gladly taught him till the last.
In fact, as HS shared is experience with people at the packed hall on Luz Avenue, Suguna was willing to sit up at 11pm at her home when the doctor called on her and teach a new song well past midnight – and this doctor recorded all this on his smartphone and he played a sample at today's meet.
The meet started with Suguna's sishyas, a dozen of them singing their guru's signature songs. A short audio visual traced the late guru's life and then, a series of guests – N Murali, Cleveland Sundaram, guru P S Narayanaswamy, Tanjore Kumar ( mridangist), violinist Usha Rajagopalan and others paid tributes, recalling their association and experiences.
The good doctor had a request – mark the guru's birthday with a workshop on pallavis in Carnatic music.