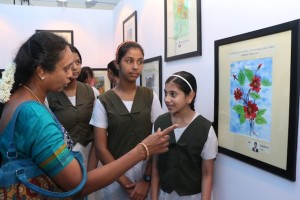 Vidya Mandir, Mylapore is celebrating its sixtieth year. It is hosting an art exhibition titled 'ART 60' to commemorate the same. The event was inaugurated by Sharad Haskar, a renowned photographer at 8:15 am on April 17.
The G.C hall at the Kindergarten block hosts a select collection of about 40 art works by students and teachers that have been framed and captioned appropriately.
The exhibits range from colourful sceneries, to pencil sketches, a story board, paintings of Gods and so on. A guest, Keshav, famed cartoonist of The Hindu did a sketch using a marker on a whiteboard that stands at the entrance. It suggests blessings from the almighty as an outline of Lord Ganesha.
R S Geetha Jayaprakash, the art teacher at the senior school says she was excited about the show and said the professional frames and spotlights and blue lighting at the venue created a great atmosphere. The show will be on today, until 3 pm. It will continue tomorrow from 9 am to 12 noon.
– Reported By Rakshitha Arun / Student Trainee