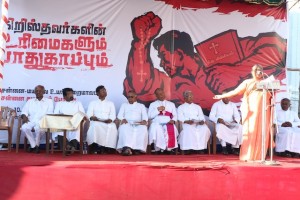 A public meeting was held on Saturday last on the campus of St Thomas Cathedral, San Thome to raise issues related to events that have affected churches and the community across the country in recent times.
The event was hosted by the diocese of Madras-Mylapore. Rev Dr. George Antonysamy, archbishop of Madras Mylapore diocese presided.
Those who spoke included Fr Xavier Arulraj – head of the diocese legal cell, Fr Deva Joe, Fr Jayaraj, the Episcopal Vicar, Fr. S. J. Antonysamy, Vicar-general, Mylapore, Fr. Arulraj, Vicar-general, Fr. Vincent Chinnadurai, Tony of the CRI and Sr. Philo, a city school principal.