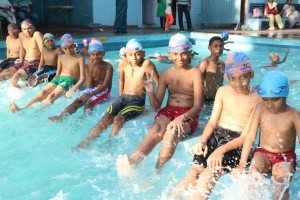 Swimming is a popular past time during summer holidays and the pool at Hotel Woodlands is packed with children who are attending a coaching camp here. The camp will be held through May and in the afternoons. Call the hotel desk at 28113111 for queries.
This hotel is on Dr Radhakrishnan Salai, Mylapore.
Hotel Raj Palace at the far end of R A Puram, in the campus of Andhra Mahila Sabha and hospital is also holding swimming camps now – both in the mornings and in the evenings. Call 24641234 – the hotel's desk.
The hugely popular pool off the neighborhood is the state-run pool on the Marina beach.
< If you are aware of other places in this area that offer swimming classes, share them in the comments column.>