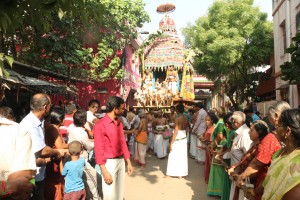 The Brahmotsavam festival at Sri Madhavaperumal Temple was celebrated in a grand manner this past week. Local auto drivers chipped in their own way.
The deities were taken in procession twice a day on various vahanams like punnai maram, surya prabhai, hamsam and more. The thiru ther (chariot) festival was held on May 17, Sunday. Over 200 devotees gathered to pull the chariot through the streets around the temple.  The festival concludes on May 20, Wednesday.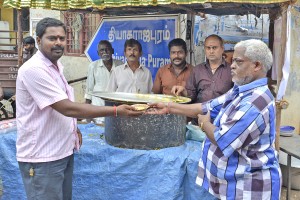 In front of the temple is the Thiyagarajapuram auto stand. The drivers here organised distribution of food and buttermilk for the devotees on the day of the ther festival. All the stand drivers contributed to the food. The drivers saids they have been distributing food the last three years on Vinayaga Chathurthi and Ayudha Pooja days; they started doing it for ther procession of the Perumal temple since last year.