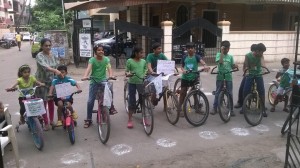 The Mandaveli Raja Street Residents Welfare Association organised a 'Go Green Keep Clean' campaign for its residents on Sunday, May 17.
The meet started with an oath taking ceremony wherein children and senior citizens (who came dressed in green) took an oath to keep their street and city clean and green.
A cycle rally followed. While the older children went all round Raja Street (a distance of 4 kms), the younger kids participated in a 500m rally. The event ended with children planting saplings at the corner of their streets.