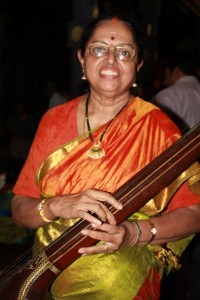 Meet Sowmya Madanagopal. She is 69 years old and has lived in Mylapore for all of those years and is a person of many parts.
She is a Hindustani vocal musician. But that only describes one part of her. While at school in St. Ebbas, she was the southern region high jump champion. Then came her degree in fine arts at Stella Marys College. She put up exhibitions, taught painting. But her soul was soaked in Hindustani music.
Says Sowmya 'Music in my veins – I started learning Veena during school, and vocal Carnatic Music too. Then I happened to listen to Pandit Ravishankar's recital when I was 14. I was drawn by the music and from then, it is my passion'.
Through the years, she has had many gurus – like Krishnanand and Meera Savoora in Chennai, Mohammad Hussain Khan in Pune.
Now, she runs a school called Sunad at her home in Karpagam Avenue. She teaches her students Hindustani music. She is a voice-trainer as well.
For all her efforts, Sowmya has recently been awarded the Mudhumani by the state's Department of Arts and Culture.
You can reach her at 9840281720.