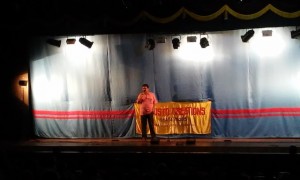 Actor-dramatist S. Ve. Shekher is appealing to all performing arts rasikas to join him in raising money for people in Nepal affected by the earthquake.
Just before the curtains went up for Augusto's 'Jeyitha Kudirai' at Narada Gana Sabha at Kartik Fine Arts Nataka Vizha on May 3, he said that he planned to stage one of his popular plays on May 12 evening at this venue and asks people to attend this free show but bring donations and drop them in the donation boxes.
He said the monies will be sent to PM's office as Nepal Earthquake Relief Fund. Narada Gana Sabha has consented to give the hall free and Kartik Fine Arts will host the drama. The choice of the drama will be one of his hit comedy productions.
He said the target collection is one lakh rupees.
– Report and photo by V. Vasantha