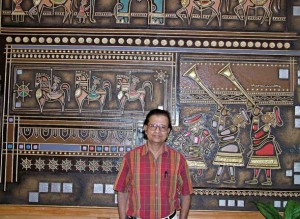 Artist A. R. Natarajan, fondly known as 'Natanam' passed away on May 24. He was aged 76. He was a cartoonist and a muralist.
Natarajan was born in Ammanur, near Tiruvarur to A. N. Ramamurthy and Rukmini. He attended school at Ammanur and then at Trichy. His talent for drawing found an outlet in his caricatures and sketches, even during his early school days.
It was during his days at Trichy that he was spotted by writer Karichan Kunju who brought him to Madras. Here, he formed friendships with eminent artists like Gopulu, Sagar an writers like T. Janakiraman. He drew inspiration from these people and considered them as mentors.
He started drawing cartoons and art work for several noted publications. Some of his noted creations are Thumburu and Alamu-Ammu which grew popular among readers.
But Natanam is best known for his murals. He created designs out of various materials like stone, metals, wood with intricate designs and symbols. He had a deep interest in culture and tradition and this enabled him to bring those aspects into his work.
His murals are now adorning the Pandurangan temple at Thennangur, Govindapuram temple, airports, shops.
His experience and skill in this field made it possible for him to incorporate different cultures and scenes into his work. And hence, his work can be seen outside India too – at USA, Singapore, Malaysia and more.
In recogonition of his creativity in the world of art, particularly with respect to murals, Natanam has also been the recipient of various accolades and awards.
He is survived by his wife Rajalakshmi. The family residence is at 1 Dev Apartments, 3rd Street East Abhiramapuram (near Sai Baba Temple). Contact  8220310008.