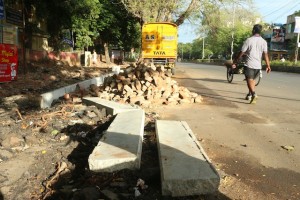 A civic project which could change the face of Luz and the mada streets around Sri Kapali Temple, Mylapore has finally been launched on the ground almost two years after it was first designed and discussed.
Workers have begun constructing what will be wide and smart-looking pavements on either side of Luz Church Road – the first part of the contract which includes a central pavement that will link Luz Church to Luz Circle.
The idea is to create a pedestrian friendly space which links the busy and heritage zones here.
The pavements will ultimately make access from this road to Sri Kapali Temple zone and to San Thome easy and also showcase the sights and heritage spaces and allow for a unhurried way to explore this part of the city which predates Madras.
The other part of the project entails better pavements on Kutchery Road, wider pavements on mada streets and temple tank area.
There will also be street furniture and signages at places where history was made and famed people lived.
Chennai Corporation is keen that the project comes out well in the Luz Church Road area and develops into the temple and San Thome zones.
The first leg work should take about 6 months.