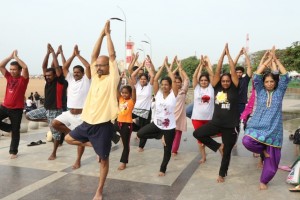 The spirit of International Yoga Day was in the air across the Mylapore neighborhood as over a dozen groups and yoga centers got going this morning with a special yoga session or introduced people to yoga.
On the lawns of Marina Beach, there were groups which went through their asanas as the sun slowly rose on a  rather cloudy morning. Leading one group was Vinod.
In Raja Annamalaipuram's Dharmambal Chennai Corporation Park on Kamaraj Salai, a small group of yoga practioners led by Satish went through the paces.
Out at the hyper-busy Nageswara Rao Park in Luz, a large group of men and women practiced yoga on the greens even as walkers did their rounds, people played badminton and others sat to themselves.