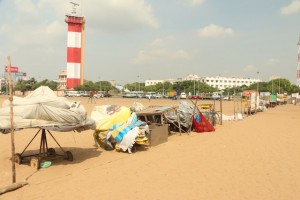 Hawkers selling snacks and offering entertainment on Marina beach have been ordered to do business from select places only. The formation came into being last weekend as civic officials and local police asked the hawkers to locate themselves in a few rows that run east-west from the inner road side to the water front.
Such an arrangement may create a better beach atmosphere and help regulate the proliferation of stalls on the Marina. Now stalls are seen in the new order from the Light House end to the Gandhi statue end.
There have been pleas in the past to remove all hawkers or get them to designated spaces and also limit their number.
Such an arrangement was made at Elliots Beach in Besant Nagar recently and it seems to be working well.