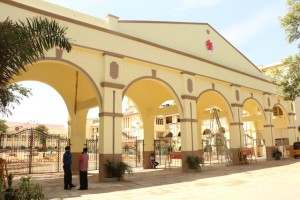 A massive arch is what the Salesian priests have constructed on the St Bede's school campus in San Thome to serve as the new gateway to the two schools here – the St Bedes Anglo Indian He Sec. School and the CBSE avatar started some years ago.
It appears that the old compound wall will be broken down to showcase the new archway, which looks impressive.
The school Headmaster, a priest was not keen that photos of the archway be taken now.
In recent times, some alumni of this over 100-year-old school have expressed their annoyance on social media on some new projects that have come up here.
Many are unhappy that a vintage chapel that stood at the far south-east end of the campus was demolished to make way for a mod auditorium.