The month of Ramazan began on June 18 and Muslims in the area are observing the fast.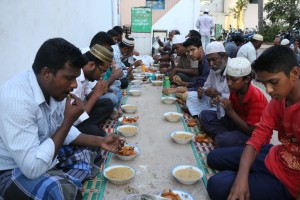 Here is a picture of the Iftar feast at Jumma Mosque, Kutchery Road, Mylapore.
The mosque is the oldest in the area. It was built in 1699 and has been in use since then. During Ramadan, the mosque provides the traditional foods with which the observers break their fast.
The treasurer of the mosque is Adbul Rahman and the muthavallis are  Mohideen Kunhi and Mohideen Muqhsoor. There are 8 other committee members for the mosque. These 11 people are in-charge of organising and executing the food for the iftar during Ramzan.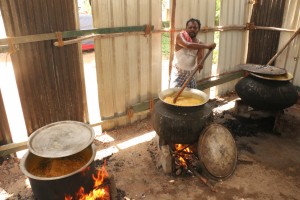 Abdul Rahman is a diamond jeweller by profession. But during the month of Ramzan, he takes on the role of procurer for the feast. Every morning, at six, he drives over to Kothaval Chavadi and brings back fresh vegetables. Food prep starts at around 6. About 70 to 75 litres of kheema-rice gruel (kheema kanji) are prepared everyday for distribution. In addition to this, savories like samosas, bajjis may be prepared. All this food is cooked only on wood fires. People may also drop off food items like buns and more for distribution every day. Donations from devotees and also personal donations from committee members enable the procurement of necessary items.
The gruel is ready by about 2 p.m. It is distributed to the contributors first, at about 3. 30 p.m. Then, at around 5.45 p.m. or so, the food is distributed to all the local people (irrespective of whether they are Muslims or not). These people take the food home and can break the fast there at 6.44 p.m.
For people who stop by the mosque to break their fast, a bowl of gruel, 2 dates and savories are distributed.
The mosque also conducts a taraweh prayer for the entire month at 9 p.m. The prayer goes on till 10.30 p.m.