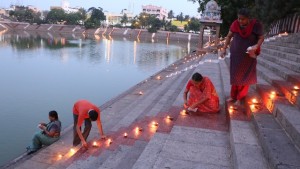 Srikanth and his team of volunteers are always at the centre of work for all the key celebrations at Sri Kapali Temple in Mylapore.  On the occasion of Vaikasi Vishakam, the team helped to arrange for the laksha deepam display at the temple and the tank.
The team lit thousands of earth lamps all around the temple tank and vicinity. The display will was started on Tuesday and will end on Thursday evening. Go over after 7pm to watch this display.
The photo here was shot on Wednesday evening.