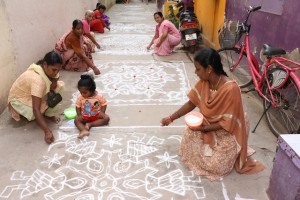 The community around the Nagathamman Temple off  Mosque Street in Mylapore have been over the past few days celebrating the aadi festival in a special manner. The hereditary managers of this small temple located opposite the Sri Anjaneya Temple here say that the family founded the temple as a small shrine and have managed it over 100 years.
Over the past few days, there has been a mass vilakku puja on its premises and a kolam contest for local residents – the latter took place on Wednesday evening.
A colourful ther procession is also due this weekend.
Contact D. Uma Maheswaran, Mandaveli St., – temple manager. Call 9551601630.