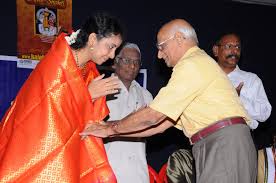 One of Carnatic music's biggest promoter, and a passionate one at that, P. Ramabhadran has died. The end came on July 15 at a Mumbai hospital. He was 88.
The body was brought to his home in East Abhiramapuram and the funeral was scheduled on Friday morning.
Ramabhadran ran a arts body called SAFE, named after a daughter he lost and hosted a series of concerts throughout the year in the city, at halls in Mylapore. His music fests were big ones and he particularly chose young, talented artistes to give them the big stage. The maestros were also on his concert list. He knew all of them closely.
Ramabhadran who was an officer at BARC ( Bhabha Atomic Research Centre) in Mumbai had started Music Triangle in that city to promote Carnatic music. This was a popular arts body. When he shifted to Chennai, he started SAFE and a Trust ran its affairs. But even in his 80s, he would personally supervise the arrangements for the music concerts and the December season fest.
He was a warm and passionate man, very meticulous, proper and formal where it required and knew each artiste personally and closely and they in turn respected him.
The family resides at 32/11, Balaji Apartments, 3rd St., East Abhiramapuram. Call 9600021245 / 24991245.
– File photo here shows Ramabhadran felicitating vocalist Gayatri Girish