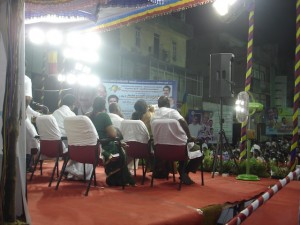 The Mylapore unit of the Pattali Makkal Katchi ( PMK) hosted a public political meeting at Mangollai area, on North Mada Street end this evening. A small crowd was seated by 7.30 p.m. and more were seen coming in in vans and autos as local speakers took the podium.
Dr Anbumani Ramadoss, the party leader arrived at about 8 p.m. and soon it began to drizzle and rain steadily.
North Mada Street and Kutchery Road were fitted with lights and cut outs too.
The local police though made a new arrangement – the stage was set inside North Mada Street, so traffic from East Mada Street could go in and out through the Mathala Narayana Street and on to Kutchery Road, though traffic jams took place. The stage is usually set at the Mangollai end and that blocks traffic on both mada streets.