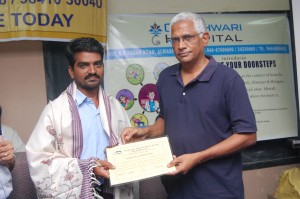 How often do we appreciate good work? The residents of R. A. Puram got together on a sunny Sunday morning to do just that.
On July 19, in front of a gathering of more than 100 residents, the members of RAPRA (R. A. Puram Residents Association) honoured RAMKY conservancy staff – Anthony Manimaran, Selvam, Balaraman, Jagan, Mathiah and Das for their efforts in keeping the streets of  R. A. Puram clean and tidy.
On the same platform, 50 class XI students received scholarships of Rs. 3000 each. A medical camp to screen patients with thyroid gland deficiencies and diabetes was also held on that day. All this was part of the quarterly meeting proceedings held by the RAPRA Society at Raja Muthiah School, R. A. Puram. Contact 9841030040 for details.