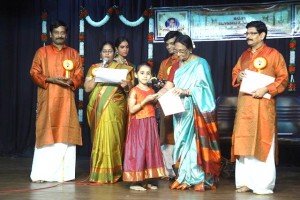 Sri Sumukhi Rajasekharan Memorial Foundation held the 13th edition of its annual Balar Chithirai Kalai Vizha, a cul-fest for children with an event on June 28 at a hall in the P. S. School campus, Mylapore.
The hosts said that over 200 children from Pre-KG to college level took part in 22 competitions  They came from Bangalore, Hosur, Hyderabad and all parts of Chennai.
Competitions were conducted under three categories – Performing Arts, Fine Arts and Academic Arts based on Tamizh Language, Culture and Tradition.
The finale had Dr. Prof. V. Balambal, as chief guest and she distributed certificates and medals to all the participants apart from the top winners.
Kids and youth came dressed in traditional paavadais, dhavanis, sarees, kurtha-pyjamas and dhothies, in line with the wishes of the Mylapore Trio – Aparna, Surendranath and Dr Amarnath who run this trust and have been at it for a decade.
Aparna says that that the vizha had no sponsors as such but they enjoyed holding the festt with dedication, commitment and self support, along with likeminded, service oriented well-wishers.
The Foundation holds regular concerts for the talented and workshops on religious and traditional practices.