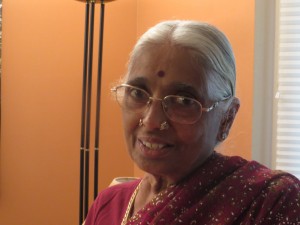 Rukmani Govindarajan, 78, passed away on July 3 at Bangalore. She was a resident of New No 3, Fourth Main Road, R. A. Puram for about 45 years. Here is a tribute to her written by her family.
Born and brought up at a small village near Chidambaram, Rukmani came to Chennai in 1957 to her house in R. A. Puram. "Rukmani mami", as she was fondly called, was a popular figure in the neighbourhood.  Her grace and energy was an inspiration to many of her acquaintances. She was well versed in Sanskrit and slokas. She imparted her knowledge in Narayaneeyam, Baghavadham, Diyva Prabhandham, Lalitha Sahasaranamam and many more to her team of ladies, who chanted them every week without fail.
Rukmani mami's hands were very good at Tanjore painting and her melodious voice sang beautiful hymns, which were also taught by her. She and her husband were avid Carnatic music connoisseurs and would not miss the Marghazhi season kutcheris. They were recently honoured by RAPRA for their inspiring lifestyle and their social contributions. She won hearts with her voluntary service in the cancer institute and in the school for the visually challenged. She is survived by her husband, S. Govindarajan, one son Sriram Govindarajan, two daughters  Sowmithri Sridharan, Meera Ananth, and grandchildren. Her daughter Sowmitri can be contacted at: 09845286246.