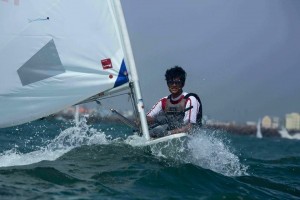 Aditya Krishna is a student of class XI at Vidya Mandir school. He has recently won the silver medal in the under 17 Laser Radial category at the 30th Laser Sailing Championship 2015 held at Hyderabad in July. A total of 77 boats sailed in this category.
Aditya got hooked onto sailing when he attended a summer camp conducted by nationally ranked sailor Rohini Rau. He has been learning for the last five years from coach Chinna Reddy at Chennai Harbour.
Last year he got into the National Squad of the Yachting Association of India for Laser Radial category. He is one of the youngest members of the squad in this category.
A student of Science group, with a focus on biotech, Aditya also enjoys drama and follows plays by local troupes whenever he can. He takes active part in the school cultural programs too.
He enjoys sailing at the Royal Madras Yacht Club at Chennai Harbour; especially on Sundays, when sailors can hop into any boat for sailing. Inexperienced sailors get to be part of the crew and experienced sailors would be at the helm. This helps the youngsters gain experience on manning different boats.
He is thankful to his coach Chinna Reddy and RMYC for bringing him this far.
Contact coach Chinna Reddy at 9791040668 or Aditya's mother Gayathree at 9444049492.