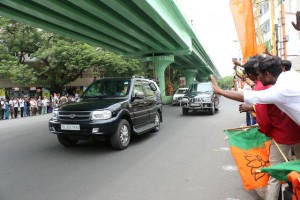 BJP cadres and other people got to wave out to prime minister Narendra Modi when his cavalcade took TTK Road to reach the Madras University campus yesterday for the Handloom Day function there.  People lined up on both sides of this road last morning and Dr. Radhakrishnan Road to greet the PM.
But there were many others who wished the PM had not come this way because the traffic curbs led to chaos at peak hour time and many inner roads like C V Raman Road, Bheemana Road, Kasturi Ranga Road and streets were jammed with cars and bikes.
On his return from the function, the PM, after visiting chief minister Jayalalithaa at her Poes Gardens residence for lunch, headed to MRC Nagar, R A Puram to visit Cho Ramaswamy at his residence – the veteran writer, dramatist and commentator has been ailing for some time and is now resting at home. Modi said Cho was an old friend and he wanted to see him since Cho had not been well for some time.