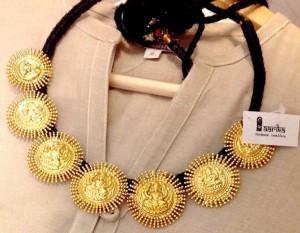 If you are looking for stylish and elegant jewellery pieces that can complement your outfit, check out Aarika.
This is a line by designer Sarika Rajeev Kapoor. Sarika makes classic, contemporary jewellery – neckpieces with jute, jhumkas that can be worn even with a pair of jeans.
She has undergone training from the SinGem Institute, Chennai, and has been featured in their Hall of Fame for her work in the field of fashion jewellery.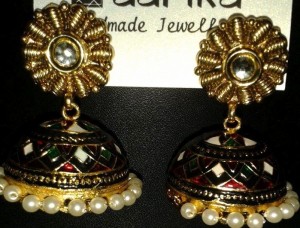 Sarika is a banker turned artist. She worked for Citibank, ICICI Prudential and Royal Sundaram for a more than six years. Then, in a bid to follow her interest, she  quit her job and took up jewellery design.
Says Sarika," I love the process of connecting to my heart, designing and knotting each metal or gemstone and infusing them with positive intentions and affirmations. I play with materials, processes and techniques until I develop, what I think, an exquisite piece."
Her pieces are available at various fashion outlets in the city. She works out of her home in Karpagam Gardens, R. A. Puram.
She also has stalls at exhibitions and shows with Crafts Council of India, DakshinaChitra, Handloom Export Promotion Council Ministry of Textiles, Govt. of India and Madras Market.
For details contact Sarika at:sarika.rajeevkapoor@gmail.com or 9841419187.