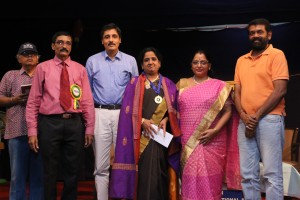 The 15th anniversary celebrations of Pigeon Trust, a Mylapore based organisation, was held at St. Isabel Hospital auditorium recently.
Doctors, teachers and institutions were honoured for their services in various fields. D. Sumana Premkumar, radiation oncologist, Dr. S. G. Ramanan, trustee of Cancer Research Relief Trust and a general physician in Mylapore – Dr. Ramesh Rao were presented with medals and cash. Sister Celena – the chief of St. Isabel Hospital and Rev. Fr. Peter Thumma of Luz Church received the awards on behalf of St. Isabel Hospital, Mylapore and Luz Church.
Latha Ramakrishnan, a teacher at Sri Karpagavalli Vidyalaya, Mylapore received the best teacher award for her contribution and five students of the same school were given medals, certificates and notebooks for good performance. The chief guest – film maker Vasanth Sai distributed the awards and certificates.
A keyboard performance by Aavey Kannan and his group of 'The Famous Music School' followed the award ceremony.