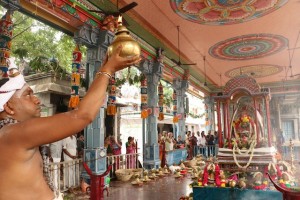 The second and key part of the first set of religious events leading to the planned kumbhabhisehkam of Sri Kapali Temple took place this morning, Sept.9.
The 'balalaya kumbhabhishekam' yagnam was conducted at the Navaratri mantapam in the campus. Over 200 people participated in it since 9.30 a.m.
The kumbhabhishekam will be held in early 2016, said temple officials.
Discussions are being held to chart out the repairs and preparations that must be done here for this grand event.