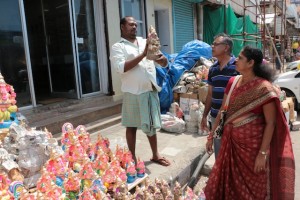 The hawkers are back on Mylapore's North Mada Street. Dozens of them have offloaded their first set of  images – those of Vinayaka – on the eve of the festival of Vinayaka Chathurthi.
These images are sourced at Puducherry, Panruti, Cuddalore and north Chennai.
There are simple ones, just earthen images as well as some new designs – like the set we spotted that is designed only on the motif of large leaves and painted green.
Hawkers say the images are not painted in toxic colors. But this cannot be cross checked on the spot.
Prices range from Rs 50 to Rs.2000.
More stocks are expected later tonight.