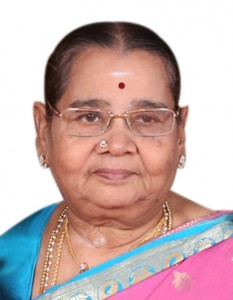 Janaki Swaminathan, aged 79, passed away on Sep 14. She was a vocalist in the classical Carnatic style music.
Janaki belonged to the bhakti devotional tradition, in which music is regarded as a means of seeking God. For a woman to venture in a similar task of containing to "Thevaram, Thiruppavai and Thiruvempavai" music is indeed tough, but Janaki was an exception. She participated in hundreds of public performances and rendered devotional songs in the temples of Palani, Thiruchendur, Tirupathi, etc. She also gave regular programs in A.I.R. She has also performed in other countries such as Malaysia, Singapore and Srilanka. 
In 1977, she was given the title, "Isai Selvi" by Honorable Justice P. R. Gokulakrishnan. Swami Kirubandha Vaari appreciated her singing as "Rain of musical honey".
She lived in TSV Koil Street, Mylapore and her husband Late P. K. Swaminathan served as a Secretary to three Chief Ministers namely, Kamaraj, Bakthavachalam and Annadurai. She is survived by two sons, three daughters and ten grandchildren. Contact the family at 8939332460.